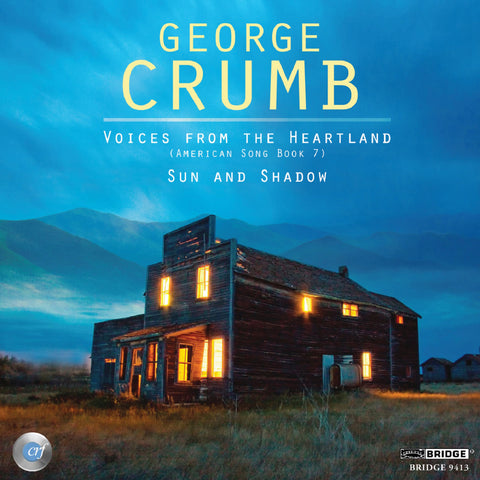 2015 Grammy Nominee: Best Contemporary Classical Composition
American Songbook VII: Voices from the Heartland
This important recording features the premiere recording of the final installment of George Crumb's monumental American Songbook series. Songbook VII, titled Voices from the Heartland, includes songs both humorous and tragic, and concludes with the largest song setting of the seven-part cycle, the native American Song of the Earth. As in previous works in this cycle, Crumb employs a percussion "orchestra" of more than 100 instruments, creating a rich tapestry of beguiling sounds. Also included is the premiere recording of Sun and Shadow, Crumb's new cycle on poems of Lorca. The featured artists, Ann Crumb, Patrick Mason and Orchestra 2001, are the dedicatees of these compositions, with both recordings made under the composer's supervision.
Reviews:
"If you have been put off listening to contemporary 'art songs' in the past you owe it to yourself to reignite the spark with the songs of George Crumb. I would hope that even the briefest introduction to Crumb's imagination would invite and reward the most far-reaching exploration." - MusicWeb International
"Ann Crumb sings in a lovely way...her whispered lines remain spine-tingling, her range of expression awes as much as it haunts. Bridge's production values are unsurpassed. You'll know if you want this, but newcomers should be cautious. It really is a stunner, in a very good way." - Classical Net

"In several songs there's a lot of noodling on pentatonic themes, spiced occasionally by a touch of Bartók-style bitonality or percussive chords á la Stravinsky." - BBC Music Magazine (5 stars)
Order from Amazon.com
Order from Arkivmusic.com
Order from iTunes
Order from H&B Direct by calling 1-800-222-6872
American Songbook VII:
Voices from the Heartland (2010)
Spanish Songbook II:
Sun and Shadow (2010)
Ann Crumb, soprano
Patrick Mason, baritone
Marcantonio Barone, piano
Orchestra 2001, James Freeman, conductor

BRIDGE 9413
Related discs:
9476, 9445, 9335, 9312, 9275, 9261, 9253, 9218A/B, 9174, 9170, 9155, 9139, 9127, 9113, 9105, 9095, 9069, 9028
Reviews:
Expedition Audio review